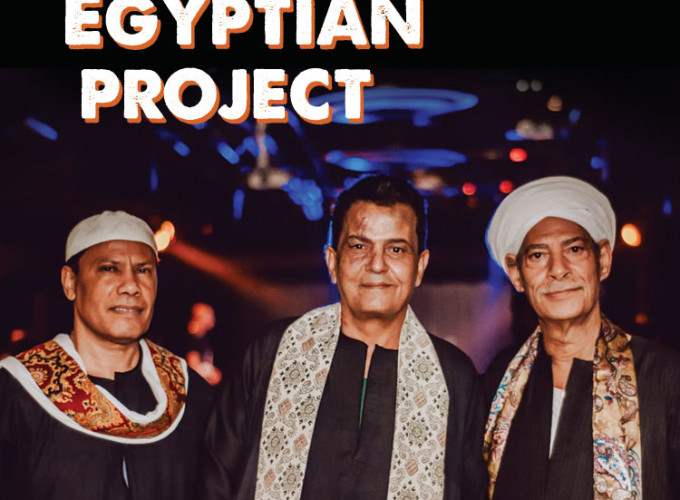 Egyptian Project
About
Egyptian Project
More than just a performance, it is a harmony and fusion, as the Egyptian Project is the fruit of a long-term and tight cooperation between defenders of Egyptian heritage and a young French musician who mixes the sounds of the Nile Delta and Cairo with the atmosphere of trip-hop, electro, hip-hop and even classical music. Electronic sounds always set the stage for a journey to unexplored lands. The team was formed in 2010 and continues until now, by the grace of God and with the encouragement of the great audience, to continue and produce the new.
No one would dream of those distant times when musicians, dancers and all kinds of artists roamed the neighborhoods or cafés of Cairo, waiting for a night show to celebrate a party, a wedding, or a birthday. It is an electronic sound energy that reveals the sweetness of the music of the banks of the Nile, awakens it and carries listeners on a journey to distant lands. Artists and meeting in both France and Egypt, especially organizing a lot of educational activities in the light of classical Egyptian musical instruments such as rebab, percussion, kamancha, tarab, koula and computer music.
After that, the French music traveled and we changed the electro music, meaning we converted all the musical instruments recorded on the electronic instrument to become real live instruments to become acoustic, and we composed, composed and distributed the songs of the second album, which is entitled (Ya Ward) and we are on our way to fully produce it and produce many works at the present time. .
In the end, I would like to note that "each of these musicians has acquired ways to adapt to the playing of others. It is not limited to copying and pasting, but rather an intense participatory work that was established over a long time to build a solid foundation. It was necessary to build a relationship based on trust, and now that complete confidence is available, we We feel the sincerity of sincerity when going upstage."
---