Sakia Academy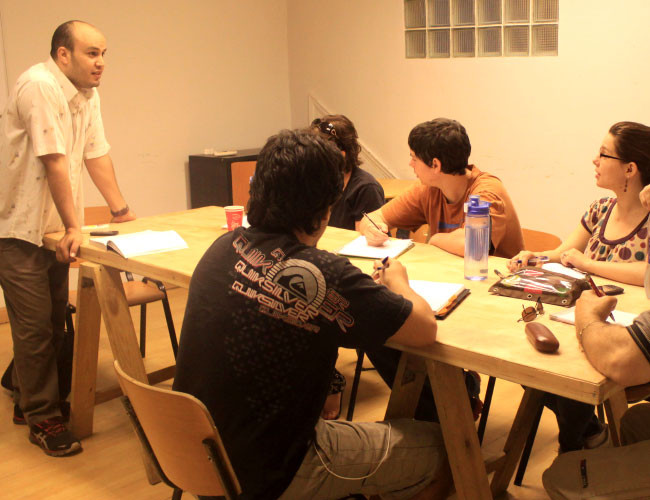 Educational courses in:
El Sakia offers many workshops to teach the principles of arts and literature of all types and levels. Examples of these workshops include:
Different types of Fine Arts, Arabic Calligraphy and Photography.
Music and singing.
Physical, mental and spiritual training, such as ballet, yoga, chess and martial arts.
Fields of human and religious sciences.
El Sawy culturewheel has established a workshop for handicrafts such as embroidery, sewing and accessory manufacturing to push arts & crafts market and encourage more micro-economic projects.
Cultural Management Course:
Public administration ... establishment of cultural units ... financial management ... library management ... human resources ... legal management ... history of arts (literature - poetry - theater - cinema - children's literature - plastic arts - music and singing) … standards and principles... Marketing and advertising .. Strategic planning ... Public relations ... Management of spaces and theaters ... Information technology ... Management of production ... Methodologies of thinking ... Preparing programs ... Addressing support entities ... And others.
Let me think Program:
Is created to develop the abilities of children aged 7-15 years. The program is designed to change the attitude of Egyptians towards children by making everyone in the society believe that "there are no idiots." There are only untrained minds.
The aim is to teach children how to think, imagine and develop ideas and solutions for virtual situations. The program also aims to teach children:
How thinking could be a fun activity.
Provide an opportunity for expression to all participants.
Respect others' opinions.
Developing collective and cumulative thinking.
Recognize that there is always more than one correct solution.
Not to attribute the idea to one individual but to all participants which will make them all winners.
We are keen to offer the courses at:
affordable prices to benefit the members of El Sakia.
Academic teachers and specialists.
Different levels for children and adults.
Carefully considered and picked dates.
Request an application form